Walmart (WMT) reports their July '21 quarter this coming Tuesday morning, which traditionally and unofficially ends the quarterly reporting period.
With the summer slowdown, analyst revisions – see chart below – have slowed considerably, which is the tell I use to note when earnings season is done.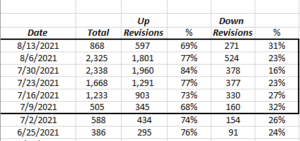 Data source: This Week in Earnings, Refinitiv
Readers can see how the bulk of analyst estimate changes occur around earnings reports, the bulk of which fall from mid-July to early August for the 2nd quarter and then revision activity slows considerably.
The data glitch experienced at IBES by Refinitiv the week of July 30, '21 appears to have dissipated. Refinitiv is tight-lipped about the glitch which is more puzzling since so much of the estimate data is used in valuation models across Wall Street.
Anyway, here are a few tables looking at this week's data:

Data source: IBES data by Refinitiv
The above table is shown frequently on this blog, and shows the increasingly positive revisions for Q3 '21, which isn't scheduled to report for another 8 weeks or so. What's interesting although not shown entirely, is that Q3 '21 SP 500 EPS has doubled in it's expected growth rate since early January '21 – from an expected growth rate of 14.5% to 29.4% as of August 13th. The expected revenue has almost but not quite doubled too, and is expected to increase 13.9% in Q3 '21.
Here's the other SP 500 data that are tracked weekly:
The forward 4-quarter estimate rose to $205.49 this week from last week's $205.41.
The PE ratio on the forward estimate ended the week at 21.7x
The SP 500 earnings yield ended the week at 4.61%, edging lower for the 3rd week in a row after peaking at 4.66% at the end of July '21.
The Q2 '21 "bottom-up" estimate ended the week at $52.26. The same estimate started July '21 at $41 and change;
Summary / conclusion: We are still 8 weeks away from getting a look at 3rd quarter, '21 SP 500 earnings results but looking at the middle table on today's blog post, the "expected" growth rate of SP 500 has already doubled from early January '21 and that is with facing tougher comp's or early economic recovery comp's from Q3 '20.
The data glitch that IBES / Refinitiv suffered the last two weeks seems to have corrected itself, since the "forward 4-quarter EPS estimate" has been tracking slightly higher every week.
The next two weeks will be beyond slow for probably the markets and analyst revisions.
Walmart (WMT) and Cisco (CSCO) report this week, and Deere is scheduled to report next Friday morning, August 20th, 2021.  (Clients are long some Cisco.)
Remember, the markets change quickly and swiftly to the downside, when the shift happens. I'm one of those worried about the fact that the SP 500 really hasn't seen anything beyond a 5% correction in quite a while.
However the trend in SP 500 earnings for Q3 '21 looks pretty solid. The Fed's liquidity is providing a LOT of support for stock and bond prices.
Take it all with a grain of salt, and read everything with great skepticism, including this blog.
Thanks for reading.