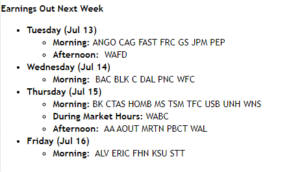 Briefing.com publishes a list of the coming week's earnings releases every Friday, and above is next week's slate of companies scheduled to report their Q2 '21 financial results.
Next Tuesday, July 13th, pre-market we get JP Morgan, and Goldman Sachs and then Wednesday we see Bank of America's 2nd quarter's results as well as Wells Fargo.
At least 18 major financial services firms report next week.
Here is another look at scheduled earnings releases over the next 2 weeks, from Bespoke: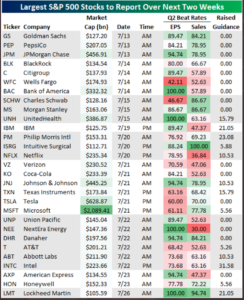 Expect Y/Y Growth Rates to Slow Going Forward: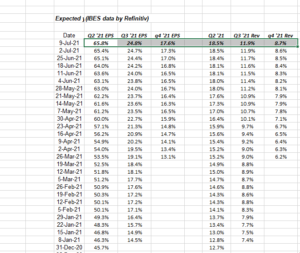 The source data is IBES by Refinitiv, but the trends tracked weekly by this blog, shows that y/y growth rates will slow as compares get tougher against 2020's recovery.
That's probably not a big surprise to readers.
Look at the y/y growth in percentages Q2 '21 EPS and revenue. The 2nd quarter's '21 EPS expected growth rate as of this weekend, has risen 20% since 12/31/20. Expected revenue growth has risen from 12% to 18% for Q2 '21.
The "average" y/y revenue growth rate for the SP 500 going back to Q4 '12 (when I first started tracking the data) is +2.5%. Average EPS growth is +4.9%.
Look at the above and below spreadsheets against that historical average.
How does 2022 look ?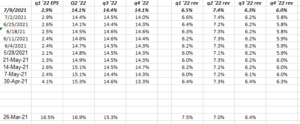 2022's expected quarterly growth rates for the SP 500 will return to a more normal, historical pattern.
SP 500 data: 
The forward 4-quarter estimate this week is $199.63 vs last week's $199.34 and 12/31/20's estimate of $159.02
The PE on the forward estimate is now 21.89x
The SP 500 earnings yield is 4.57% vs last week's 4.64%.
Top 10 client positions as of 6/30/21:
Microsoft (MSFT): +22.3% YTD return
Blackrock Strategic Income: +1.11% YTD return
Vanguard EM ETF (VWO): +9.09% YTD return
Amazon (AMZN): +5.63% YTD return
JP Morgan Income Fund: +3.45% YTD return
Schwab (SCHW): +37.95% YTD return
JP Morgan (JPM): +23.82% YTD return
SP 500 equal-weight (RSP): +19.06%
Oakmark International (OAKIX): +13.68% YTD return
Tesla (TSLA): -3.68% YTD return
SP 500 YTD return as of 6/30/21: +15.25%
Top 10 equity positions as of 6/30/21:
MSFT
VWO
AMZN
SCHW
JPM
RSP
OAKIX
TSLA
QQQ
GOOGL
Summary / conclusion: while everyone wants to talk individual stocks and individual stock earnings expectations, tracking the SP 500 data as a whole, and the patterns in evidence, still indicates the higher revisions to expected quarterly growth rates hasn't changed for the key benchmark for the last 6 months.
The big reports this week will come from financials. Expected revenue growth for the sector is -5.3% for the 2nd quarter, while EPS growth is expected at +102%. 3rd quarter, 2021 Financial sector revenue growth is -2.7% while EPS next quarter is looking at +15.2% as of this week.
We'll know more after the financials report this week. With loan loss reserve releases, there still should be capital to returned to bank and financial sector investors.
Coming this weekend will be a deeper dive into technology and financial sectors for readers.
Take everything you read on this blog with a healthy dose of skepticism. Invest your money based on your financial profile and your own appetite for volatility and risk.
Thanks for reading.