Everyone is watching the relationship between the 10-year Treasury yield and the QQQ's or Nasdaq 100 ETF.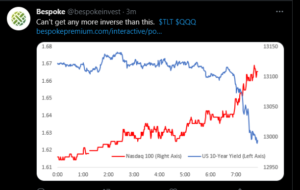 While there will be another weekly set of numbers coming out of Refinitiv on Friady, March 19th, here is how the Technology sector's revisions look in terms of expected growth for 2021: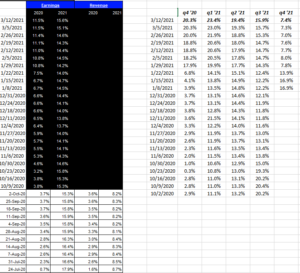 Source: IBES data by Refinitiv
The left hand column shows the expected annual EPS growth for the Tech sector for 2020 and 2021. Since Q4 '20 earnings are complete for the Tech sector, what is really more important for readers is the trend in the "expected" 2021 Tech sector EPS growth.
Over to the right, I broke out the next 5 quarters – which again includes Q4 '20 – but readers can see the continued higher revisions for the Tech sector for Q1 '21 – Q3 '21.
What's happening in the Tech sector and the QQQ's – so far anyway – is PE compression.
Readers should also note that for Q4 '2- now fully reported, the "expected" Tech sector growth rate through 12.31.20 was 3% but the actual was 20%.
Quite a difference.
Let's see what happens in Q1 '21.
The Tech sector put up some monster numbers in Q2 and Q3 '20 which show in the later 2021 quarters in terms of tough compares.
Remember too the stock market and the QQQ action could be discounting increased regulatory pressures, or any number of issues not yet seen in the numbers.
These numbers change daily and weekly. I've taken the Refinitiv data and just repackaged it for easier viewing and a longer perspective.
Thanks for reading.