The "quiet period" for earnings activity, both in terms of releases and upward / downward revisions, usually lasts from the last two weeks of each quarter, which be roughly March 15th to the first two weeks of the new quarter, which in this case is roughly April 14th, – 15th, 2021.
Oracle (ORCL) is the big Tech report next week. The stock has run nicely after the Barron's article detailing their continued progress in cloud. I'll be doing an article on Oracle's earnings preview for SeekingAlpha (www.seekingalpha.com) this weekend. AWS, Azure (Microsoft) and Google Cloud already have a decent head-start. That doesn't mean you want to bet against Larry Ellison and Safra Katz, but Oracle is looking up in terms of cloud market share and trailing the pack already, which is a situation unfamiliar to Oracle over the last 40 years. That being said, Oracle's installed base means they are not starting from scratch.
Expected '21 SP 500 EPS and revenue growth rates: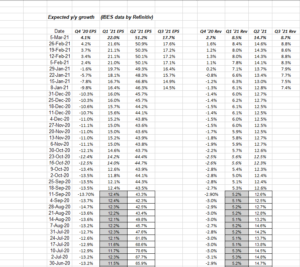 Source: IBES data by Refinitiv 
Like the last 12 weeks and even longer, the upward revisions to forward quarter growth rates should portend favorable for "the market" in 2021, but rising rates are definitely spooking investors, and compressing valuations on the mega-cap growth stocks.
However, this table is still a positive for forward earnings and revenue growth for the SP 500.
The forward earnings curve: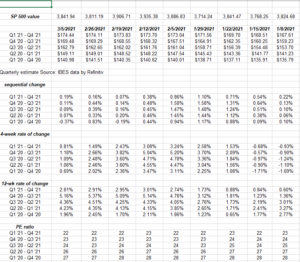 Source: IBES data by Refinitiv
In this section of our analysis of IBES Refinitiv earnings data, we watch the rate of change of the SP 500 forward earnings curve.
The quiet period really start March 15th or so, but the numbers are softening a little already.
Part of this is due to the fact there are simply fewer companies reporting over the next 4 weeks.
Here's a snapshot of the period from December 11th through the start of Q4 '20 earnings in January '21.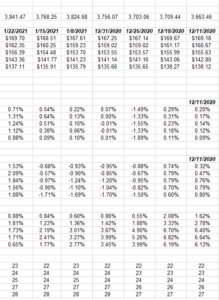 Source: internal spreadsheet from IBES by Refinitiv data
Note how the 4-week rate of change, slows starting mid December '20 and then reaccelerates after the start of Q4 '20 earnings in mid-January.
Just the absence of earnings releases and what is probably the lack of a need for sell-side analyst's to update their models results in a slow drift downward in earnings revisions and numbers.
Doing this data every week since early 2000's it seems to me that the sell-side estimates always err to the conservative or cautious side and particularly after the 33% Covid-19 correction last February – March '20.
Analysts would rather seem to miss a big upside EPS number and watch a stock move substantially higher, than be too optimistic and miss a big EPS / revenue downside surprise.
SP 500 EPS key metric update: 
The forward 4-qtr estimate this week was $174.59 versus $174.19 from last week and $159.02 from 12.31.20.
The PE ratio remains ar 22x the forward estimate
The SP 500 earnings yield is 4.54% versus 4.57% last week and 4.23% on 12.31.20.
The "average" expected EPS growth for 2020 and 2021 is still 5%.
The calendar 2021 SP 500 EPS estimate continues to move higher every week, to $174.44 this week, from $174.11 last week, and $167.25 on 12.31.20
Summary / conclusion: Little has changed about either the trends or the revisions in forward SP 500 earnings. Do your own homework and invest only based on your financial and emotional profile.
Take everything you read with skepticism and know that investors have various time horizons and risk appetites.
Interest rates are having a big influence on this market so far in 2021, but a correction was long-needed anyway.
Thanks for reading.