In a word, "no".
Just look at Financials after their mostly "upside surprise" EPS beat rates.
Here is the latest week's spreadsheet on EPS revisions within the Financial sector: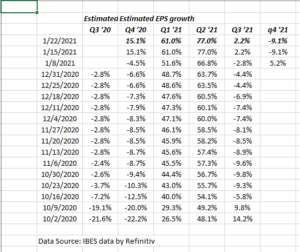 Check the improvement in the Financial sector's expected EPS growth through 2021.
What's impressive is that even as of last Friday, January 22, 2021, the forward quarters keep getting revised higher.
However since January 1, and probably thanks to 4th quarter rally in many of these names, a lot of Financial stocks are down hard:
JPM down from $142.75 prior to earnings to today's $127.86;
SCHW down from $62.04 prior to earnings to today's $53;
GS down from $309 prior to earnings to today's $273;
MS down from $77 prior to earnings to today's $68;
BAC down from $34.37 to today's close at $29.83
That's just a few of the big caps.
Most of these financials are testing or about to test their 50-day moving averages, after substantial 4th quarter rallies.
Summary / conclusion: Like the old saying, "the fastest runner doesn't always win the race, but that's often a good way to bet", upward revisions to EPS and revenue growth for individual stocks and a sector, can often be a winning strategy over a bull market.
Earnings revisions are not always a good timing tool, as the Financial sector shows the since earnings releases began mid-January '21. Both JPM and Schwab have seen continued upward EPS and revenue revisions (as has Goldman) but the stocks have sold off. (Long all three in client accounts.)
Readers will be kept posted here on occasion.
Take everything you read both here and on any blog with skepticism. Make your financial decisions in light of your own risk appetite and financial profile. This blog aims to keep readers updated but it can be delayed and the markets will always move faster than the data.
Thanks for reading.