With Apple and Microsoft reporting their December quarter on Tuesday, January 26th, 2021, representing roughly 12% of the SP 500 by market cap, when the big dogs bark, everyone should be paying attention. (I think that's a Tommy Lee Jones line from one of his movies, maybe "The Fugitive".)
Here's a quick look at the Tech sector's EPS revisions for forward quarters: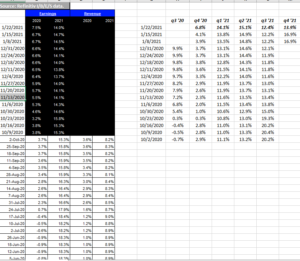 The first set of columns (in black) are the full-year expected EPS growth for the Tech sector. In mid-October '20, David Aurelio's team at supplied this IBES data, and then every week since then, the expected growth rates are updated internally.
The columns to the right are updates of the quarterly Tech sector's expected EPS growth rates, so readers can see the changes over time.
While the Tech sector's "expected" EPS growth for 2021 has slowed from 18% this past summer to 14% today, note that quarter-by-quarter changes have been consistently upward for the Tech sector. Ultimately these two data points have to converge. Personally I put more weight on the quarterly data since it's the "bottom-up" estimates from sell-side analysts, while the annual metrics can include strategist estimates that might be less accurate and "rigorous".
Note too how the Tech sector's Q3 '20 EPS growth started to increase rapidly once we saw actual Tech sector earnings.
Summary / Conclusion: With the release of the 5G phone, Apple should see a good quarter when they report Tuesday night. The December quarter for Apple is typically and consistently their strongest of the year. Microsoft too should be ok when it reports Tuesday night. Longer and more in-depth articles are being prepared for Seeking Alpha publication on both companies before tomorrow night.
The EPS revisions particularly the quarterly updates every week (the six columns to the right), portent positively for the Tech sector.
Let's see if anything changes after earnings.
Take all market commentary and data with substantial skepticism, since markets and data change so quickly. Evaluate all investment and commentary in light of your own financial profile and expertise.
Thanks for reading.