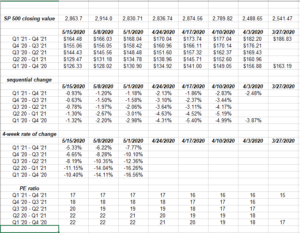 (Estimate source is IBES data by Refinitiv, This Week in Earnings)
This has been a common theme the last few weeks, but the fact is the sequential and 4-week rate of change of the forward estimates are still falling at slower rates.
It will be interesting to see what early June holds in terms of SP 500 EPS forecasts.
The other interesting fact to the data is that the 2021 SP 500 EPS estimate is still above $162.39 or the actual SP 500 estimate for 2019.
That 2021 estimate and it's relationship to 2019's final number, is what I'm paying attention to, and the number could drop below 2019 by the time July '20 earnings start.
Listening to CNBC and Bloomberg every day, Mr. Buffett, Mr. Tepper, and Mr. Druckenmiller, all rattled the markets in the last few weeks with their opinions on what's to come.
The rate of change on the SP 500 estimates continues to be encouraging.
CNBC's Josh Brown had the most cogent comment on these forecasts (as usual) regarding Tepper and Druckenmiller, when he told CNBC listeners that these could be back in the market and bullish tomorrow and you wouldn't hear that.
This blog will be out Sunday with more SP 500 earnings thoughts.
Take everything you read here with substantial skepticism, and understand that this opinion can change quickly as well.
Coming earnings this week include Walmart and Home Depot on Tuesday morning.
Walmart is expecting $544 billion in annual revenue this year (doh !) and is America's single-largest private sector employer. Still  Walmart is facing an uphill climb against Amazon after spotting the ecommerce giant a 20-year head start.
Thanks for reading.