Alphabet (GOOGL) reports tonight (Monday, October 28, 2019) after the closing bell with analyst consensus (per IBES by Refinitiv) expecting $12.42 in earnings per share (EPS) on just over $40.3 billion in revenue for expected year-over-year growth of 5% and 19% respectively.
For Q4 '19, the Street currently expects $12.99 on $47 billion in revenue for expected y/y grwoth of 2% and 20% respectively.
Readers can quickly see that while expected revenue growth for GOOGL remains intact, EPS estimates for forward years have remained flatter.
Here's the data: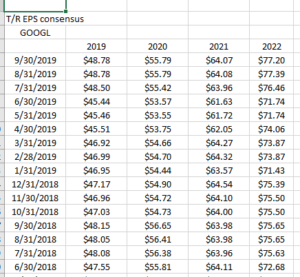 This blog went back 15 months to show the history of forward EPS estimates for Google for the next 3 years.
Here's an interesting tidbit though: the "upside surprises" for Google EPS estimates have been enormous (i.e. much better-than-expected):

(Sorry, the first data point is the June '19 quarter, working back to the March '18 quarter). The estimates and actual are Non-GAAP or operating, which is standard for large-cap Tech.
23% – 25% upside EPS surprises might be one reason that revenue growth is far outpacing EPS growth but one result of the upside EPS surprises might be that it's keeping a lid on forward EPS estimate increases.
Revenue estimates: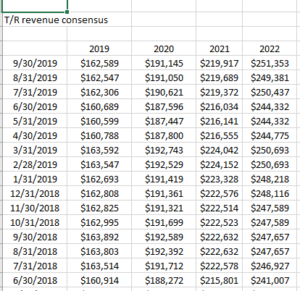 There has been some stabilization in Google's revenue estimates that began in early 2019, but the 15-month trend is clearly higher.
Summary / conclusion:  With 80% of the online search market share (per Morningstar) and advertising being the biggest chunk of Google's revenue at 46% of total, it is doubtful there is much to worry about regarding Google's quarter from a revenue perspective, but not unlike Amazon, I do think Google is prone to spend when they need to and that works its way into EPS. Plus you have the regulatory issues that keep coming up in Congress and I do think it's keeping a lid on the stock.
While Google's valuation always looks lofty, subtracting Google's $121 bl in cash, and valuing Google at a price-to-cash-flow multiple ex-cash, Google is trading at 13x cash-flow and 25x free-cash-flow with a 3% free-cash-flow yield,which looks much more reasonable than the PE multiple.
Google actually has more cash today than they did when tax reform was passed in late 2017, ($121 billion versus $100 billion) so Ruth Porat could increase the share repurchases. Google has no dividend and just $4 bl in long-term debt, with $121 billion in cash. Go figure.
The stock tends to be very volatile around the quarterly earnings report so if there is weakness tonight after the release, more will want to be owned for clients.
My own opinion is the stock is fairly valued around $1,200 – $1,300.
Thanks for reading.
(Take all opinions on markets and individual holdings with great skepticism. I write the blog pieces to impose the discipline to do the homework and to clarify my own thinking. Take or leave any or all of it but evaluate all material in light of your own risk tolerance and financial profile.)