The spike in the VIX this week, brought out the various market statisticians that talked about "forward returns" around the SP 500 after such a spike, and it portends favorably for the key benchmark.
That being said, if the SP 500 does run into a bigger drawdown, for whatever reason, the SP 500 earnings data is an unquestionable positive halfway through the third quarter.
Yesterday, it was written on this blog that the "forward 4-quarter" estimate is at a 5-year high. Still not over 10%, but close. Looking at the year-over-year growth of the forward estimate, for the last 5 years around mid-August, here is the trend:
8/11/17: +9.87%
8/12/16: +1.47%
8/14/15: -1.82%
8/15/14: +9.40% (just prior to the drop in crude oil from $100 to $28)
8/30/13: +7.02%
At no point absent the inflated earnings growth in 2009 and early 2010 following the 2008 Financial / Mortgage / Credit Crisis has the "forward 4-quarter estimate y/y growth" remained above 10% for any length of time. We'll see if it can get there in the next two quarters.
Frankly SP 500 earnings growth rates now lap the increase in the price of crude oil in Q3 and Q4 '16, so the back half of 2017 might not see consistent 10% growth, but it will be close.
Estimate revisions: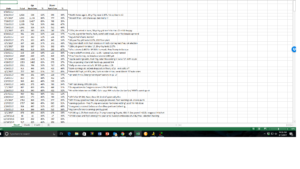 Note the upward / downward revisions during earnings season both for Q1 and Q2'17, again partially due to easier comp's with 2016, but SP 500 earnings are remarkably sanguine.
Technology estimates: 
Technology is the largest sector within the SP 500 at 22% – 23% of the market cap of the benchmark.
Here is how Technology sector "expected" earnings growth rates for the next three quarters:
Q3 '17: from 9% expected growth on July 1 '17 to +9.7% expected growth on August 11, '17
Q4 '17: from +10.4% as of July 1 '17 to +10.9% as of August 11, '17
Q1 '18: From +10.7% as of July '17 to +11.9% as of August 11, '17
The typical pattern as we approach forward quarters is that earnings revisions are usually LOWER, but the fact that Technology earnings have been revised higher in the last 6 weeks – probably on the back of Apple's report (long AAPL), portends favorably for Tech's relative strength in the back half of 2017. Tech has traded flat since early June '17, but given the earnings data, i would expect Tech to assert its leadership role as we move into the back half of '17. (That's an educated guess, not an ironclad certainty.)
Financial's and Health Care sectors have seen slight downward negative revisions, about what would be expected as a normal pattern.
Hence Technology stocks out. Apple's fiscal Q3 '17 probably has a lot to do with Technology's earnings revisions.
Remember, "market cap" matters in the SP 500 in terms of where you want to invest relative to the benchmark.
Analysis /conclusion: Client remain overweight Technology and Financial's in terms of sector overweights, and Health Care is being built slowly primarily through biotech ETF's. Apple and Tesla (long both) are acting / trading very well after their earnings reports. Amazon (long AMZN) looks very weak – technicians have raised red flags over the trading action, and the stock could see a sharp drawdown, but longer-term, the fundamentals should be fine.
There is more than can be written, but I want the post digestable and readable for blog followers.
Thanks for reading.