The SP 500 must hold 2,532 or the February 9th, 2018 low today and the rest of the week.
What's interesting is that as the SP 500 has toyed with this level this week, the Bloomberg Barclays Aggregate (AGG) or the bond market equivalent of the SP 500, is bumping against its 200-day moving average.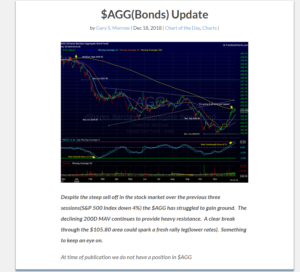 Here is a good chart from Gary Morrow, who contributes to the "This Week on Wall Street" blog. Morrow is an excellent technician. (@garysmorrow).
The point is – like the SP 500 hovering around 2,532 – the Aggregate is at a key technical level as well as we await the single most important FOMC announcement since – well – maybe, December '15.
Summary / Conclusion: ON FedEx's conference call last night, the remainder of 2019 guidance was not good. Brexit and whatever is happening with Italy has clearly slowed Europe, China's growth appears to be slowing as well as trade talks are taking their toll, and this will eventually come home to roost in slowing US GDP. FedEx refused to give revenue guidance for the last two quarters of fiscal '19, which ends in May for the freight giant. Maybe they were talking calendar '19 too. It sounded too like the US Christmas season is robust, but the majority of the weakness was non-US.
So what does the Fed/FOMC do today ?
The SP 500's trading action is like December of 2000: back then though it was Jack Welch at GE, which was still an industrial titan, declaring that Greenspan was behind the curve.
Per a couple of headlines whose source I can't recall,  this is supposedly the worst December return for the SP 500 since the Great Depression.
That's not good.
My own guess is – and take this with a considerable amount of salt – is that the FOMC raises 25 bp's to 2.50% fed funds and then Jay Powell prostrates himself before the business media and business community and says "no more for now".
The fact is there is very little inflation almost 10 years into a US economic recovery.
The Johnson Redbook said that retail sales rose 7.1% y/y (thank you @HoranCapitalAdv) yesterday, jobless claims fell sharply last week (a sign of economic strength) and the Services Purchasing Mgr's Survey (80% of the US economy) is still strong.
The US is seeing decent, non-inflationary growth.
The technical levels are defined for readers. Let's see what happens this afternoon.
Thanks for reading.