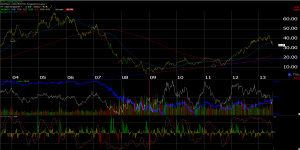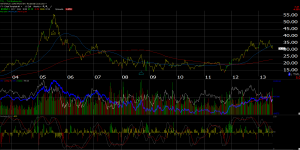 The two attached charts show both Lennar (LEN) and Toll Brothers (TOL), our two favorite homebuilders, correcting off their January '13 highs.
These stocks, and the hoomebuilders in general as represented by the XHB, had a monster run from late 2011, through December, 2012, increasing more than 100%.
Lennar just reporetd earnings three weeks ago, and although we know how strong the sector fundamentals remain, we choose to wait for a better valuation.
The recent jump in interest rates, starting in May was a good time for us to sell the great majority of our homebuilder stocks, as this article details. The key tell was TOL's earnings report, was the stock opening sharply higher, and then selling off and closing at the lows during the day.
Housing fundamentals remain very strong, although mortgage rates have started to rise. We never try and put hard and fast prices on where we might buy and sell, but LEN gets very interesting in the low $20's while a good risk-reward entry point for TOL is closer to $25.
Of the two homebuilder's, TOL has the better balance sheet, while LEN has the stronger forecasted earnings growth.
The above sells were timed very well. Be patient on the way down. The interest-rate trade may take a while to get "risked" out of the market.
We remain long names like Home Depot and Lowe's given their consumer spending ties, but sold out of our REIT's too.
Trinity Asset Management, Inc. by:
Brian Gilmartin, CFA
Portfolio manager