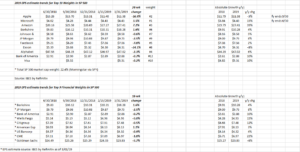 Readers who aren't visually-challenged can see the above Excel spreadsheet, updating the 2019 EPS estimates for the Top 10 Stocks in the Sp 500.
Visa (V) has now joined the Top 10, while Bank of America (BAC) has fallen to 12th place in the SP 500 and Procter & Gamble (PG) has climbed to 11th place.
What's interesting is that Tech as a sector – per the IBES Refinitiv data – is expecting -6.1% y/y earnings growth for Q1 '19, a lot of which could be Apple (AAPL) since with the reconfigured Tech sector, Apple is now 20% of the sector by market cap, and Apple is expecting -3% EPS growth for 2019, but Microsoft (MSFT), Amazon (AMZN) and Facebook (FB) are all expecting positive y/y earnings growth and in the case of Microsoft and Amazon, 15% and 39% y/y EPS growth respectively, i.e. well above "tech sector" growth.
Also, what is interesting is that Exxon (XOM) now has a larger market cap than JP Morgan (JPM), not by much, but it tells you how far Financials have sunk the last 15 months.
The top 10 weightings in the SP 500 now comprise 22.4% of the benchmark.
Thanks for reading.