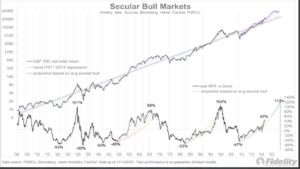 Surprised this graph by Jurrien Timmer of Fidelity Investments hasn't gotten more traction. Almost everyone seems nervous about stock prices and valuations today. Certainly makes a good case for the secular bull market to continue.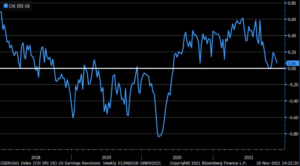 Looking at above graph, LizAnn Sonders, Schwab's first-rate investment strategist posted this earnings revisions graph this week and noted that "the era of persistently high positive earnings revisions seems to be over".
Actually it depends on the asset class being looked at: SP 500 EPS revisions continued higher this week and through the last earnings season. The Russell 2000 and everything "non-SP 500" has been weaker, which may explain the weak breakout in the Russell 2000 the last two weeks.

This is our internal spreadsheet using IBES data and looking at SP 500 revisions, and readers can see through this last earnings releases, positive or up revisions outnumbered negative or down revisions and positive revisions hit a peak this week of 70%, albeit a smeller number of overall revisions.
Bottom line: we'll know more with Q4 '21 earnings in early January and the next 5 weeks see far fewer EPS revisions within the Sp 500, but there is little indication 9so far) the positive trend has changed.
SP 500 key data:
The forward 4-quarter estimate rose this week to $215.03 versus last week's $214.77. The sequential increase is a positive.
The PE ratio on the forward estimate this week is 21.8x about the same as last week.
The SP 500 earnings yield is 4.58% this week versus 4.59% last week;
What's interesting is that the 4th quarter bottom-up estimate is $51.10 this week versus $51.08 on October 1, so the 4th quarter bottom-up estimate is two cents higher 7 weeks later even though the 3rd quarter bottom -up estimate has risen sharply with earnings releases.
Summary / conclusion: Although we are still 5 – 6 weeks out from the end of the 4th quarter, 2021, but as of today, I'd expect 4th quarter 2021 earnings to be in fairly good shape when they start to get reported in early January '22.
The next 5 weeks will see fewer and fewer SP 500 revisions as analysts likely take time off around the holidays and only those companies that report earnings will see revisions activity.
It's an educated guess, but I'm thinking the majority of the bad news is out on the supply-chain issues and labor issues although FedEx's report at the end of December '21 will get a lot of scrutiny.
Walmart's CEO, Doug McMillon noted this week on a CNBC interview that Walmart is seeing shorter lead times in terms of logistics. That's an important statement given Walmart's $550 billion in annual revenues. That company is a merchandising juggernaut.
Thanks for reading and remember, take everything you read with a healthy dose of skepticism.